Sorry, this content is available in Italian only.
Il 12 dicembre all'SMS Contemporanea Manuela Gandini, insieme a Anna Detheridge, Alan Jones e Marco Pierini, ha presentato il volume Ileana Sonnabend - The Queen of Art, pubblicato da Castelvecchi.
Rumena d'origine, di ricchissima famiglia ebrea scappata negli Stati Uniti dagli orrori della Shoah, Ileana Sonnabend è considerata la più influente talent scout del Novecento: da Bob Rauschenberg a Andy Warhol, da Jannis Kounellis a Jeff Koons, con il suo infallibile occhio ha costruito meticolosamente una delle collezioni d'arte contemporanea tra le più ricche ed esclusive al mondo.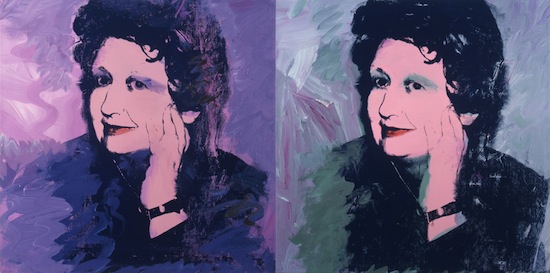 Andy Warhol, Ileana Sonnabend. 1973.
Tanto fragile nella vita sentimentale quanto carismatica e pragmatica nel business e nella vita sociale, Ileana celava il suo privato dietro la frase: La mia vita non è importante. Ma grazie all'ineguagliata capacità intuitiva e a un magnifico sodalizio sia con il primo marito, Leo Castelli, sia con il secondo, Michael Sonnabend, era conosciuta da tutti come The Queen of Art.
Dall'apertura della prima galleria a Parigi nel 1962 con le bandiere americane di Jasper Johns, alla mostra dei Sex Works di Jeff Koons nel 1991 a New York, le sue scelte hanno ininterrottamente determinato l'andamento del mercato mondiale dell'arte.
Questa biografia, scritta da Manuela Gandini dopo lunghe conversazioni registrate con la gallerista e i suoi artisti, è un mosaico di voci e figure che rievocano il clima della Finis Austriae, la vivacità della Pop Art, i ricordi della Grande Guerra, il Minimalismo, Roma, Parigi, il Cinema Neorealista, il Neo Geo, la Fotografia Orientale e il crollo delle Twin Towers. Analizzando la sua figura si è parlato chiaramente anche dell'importanza delle gallerie e dei galleristi nel mondo dell'arte e della cultura e del futuro di questo mestiere. Perchè - come dice Alan Jones - il vero critico è il gallerista.

Manuela Gandini è curatore e critico d'arte contemporanea. Con Raffaello Siniscalco ha realizzato per la Rai Il Signore dell'arte, un film sulla vita di Leo Castelli. Ha curato numerose mostre, tra le quali Taking the Picture. Photography & Appropriation (1989) alla Castelli Gallery a New York e al Gallery Night a Milano. È stata direttore artistico di Artandgallery. Ha collaborato con i quotidiani Il Giorno e Il Sole 24 Ore e attualmente scrive per La Stampa e Diario.