There are moments and places in history - and here we're talking about art, sound and music history - in which peculiar things are created that are going to mark and influence outcomes for years, decades to come.
One of such moments and places has been PRES the Polish Radio Experimental Studio established in Warsaw in 1957 by Józef Patkowski in the contex of Poland's official state broadcaster.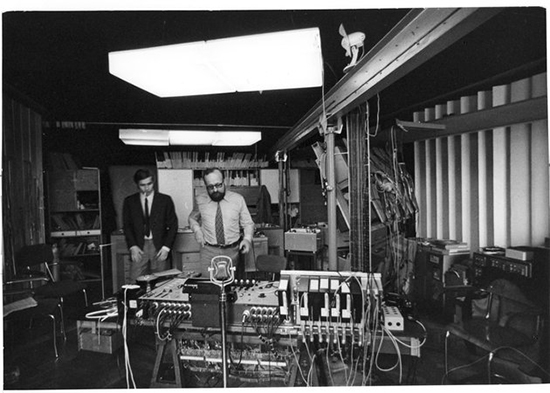 Krzysztof Penderecki e Eugeniusz Rudnik at the Experimental Studio, second half of the '60s. Ph. Andrzej Zborski. (post.at.moma.org)
Recently PRES has been under the lens of post - MoMA's online resource devoted to art and the history of modernism in a global contex - which devoted a section to resources materials, interviews, essays and discussions to PRES and its legacy.
And here is where we came in. We sat - from two sides of the ocean (thanks technology!) with Magdalena Moskalewicz who's a postdoctoral fellow for the C-MAP research initiative at MoMA; she mainly focuses her research and work on Fluxus-related practices in Central and Eastern Europe and this is the first important link that takes us to Poland and to what happened at PRES.

Our research project at MoMA, called C-MAP, looks at regions of the world which have not been thoroughly investigated in the Western (English-speaking) art history [...] For Eastern Europe, we have started our research following the network of Fluxus [...] and it was interesting to learn that one of George Maciunas' contacts in Eastern Europe was Józef Patkowski, the founder of the Experimental Studio at the Polish Radio in Warsaw. This caught our attention. Usually, most of the contacts that George Maciunas and his collaborators had all over the world were visual artists, very often conceptual and performance artists. But Fluxus at large was also a network of composers and people engaged in critical investigation into music and experiments with sounds. In fact, Maciunas met Patkowski in Darmstadt during one of the New Music Workshop that were very popular in these circles at the time. As a result, when in the early 1960s Maciunas decided to investigate Eastern Europe, and when in 1964 two Fluxus artists (Eric and Tony Andersen) set off on a tour to the countries of the Soviet Block, they started their trip from Warsaw, and specifically - with visiting Patkowski at PRES. So this was our first point of interest with the Experimental Studio here at MoMA, because, interestingly, it was only the composers and the experimental musicians and technicians that George Maciunas and the Fluxus team was in touch with in this Poland, not the visual artists... [Magdalena Moskalewicz]

Together with Magdalena Moskalewicz we talked about PRES' legacy and its uniqueness in the context of the experimental sound and music research studios that blossomed in Europe from the 50s until the early 80s.
Because of its structure and its historical and geographical position PRES qualified itself not only as a door between East and West, but as a real space where theory, music, architecture, science and art could find a common terrain of experimentation and playfulness.

post has been researching a publishing a series of intriguing materials.
This is our contribution.

The sounds coming with the interview are bites from
W?odzimierz Koto?ski - Study for One Cymbal Stroke (1959)
Krzysztof Penderecki - Psalmus (1961)
Andrzej Dobrowolski - Music for Magnetic Tape and Oboe Solo (1965)
Eugeniusz Rudnik - Assemblage (1966)
El?bieta Sikora - Orpheus Head (1981)

All the above compositions can be listened online in the post feature: Magnetic Tape as Instrument: A Rare Selection of Electroacoustic Music from Poland.