Radio Papesse | Lucia Festival and Fondazione Archivio Diaristico Nazionale present the 2nd edition of LUCIA AWARD for audio production in Italian.

Prizes: 2000,00 € and 1000,00 €
Deadline: November 14th 2021
The winners will be announced December 12th, 2021
Info: premiolucia@radiopapesse.org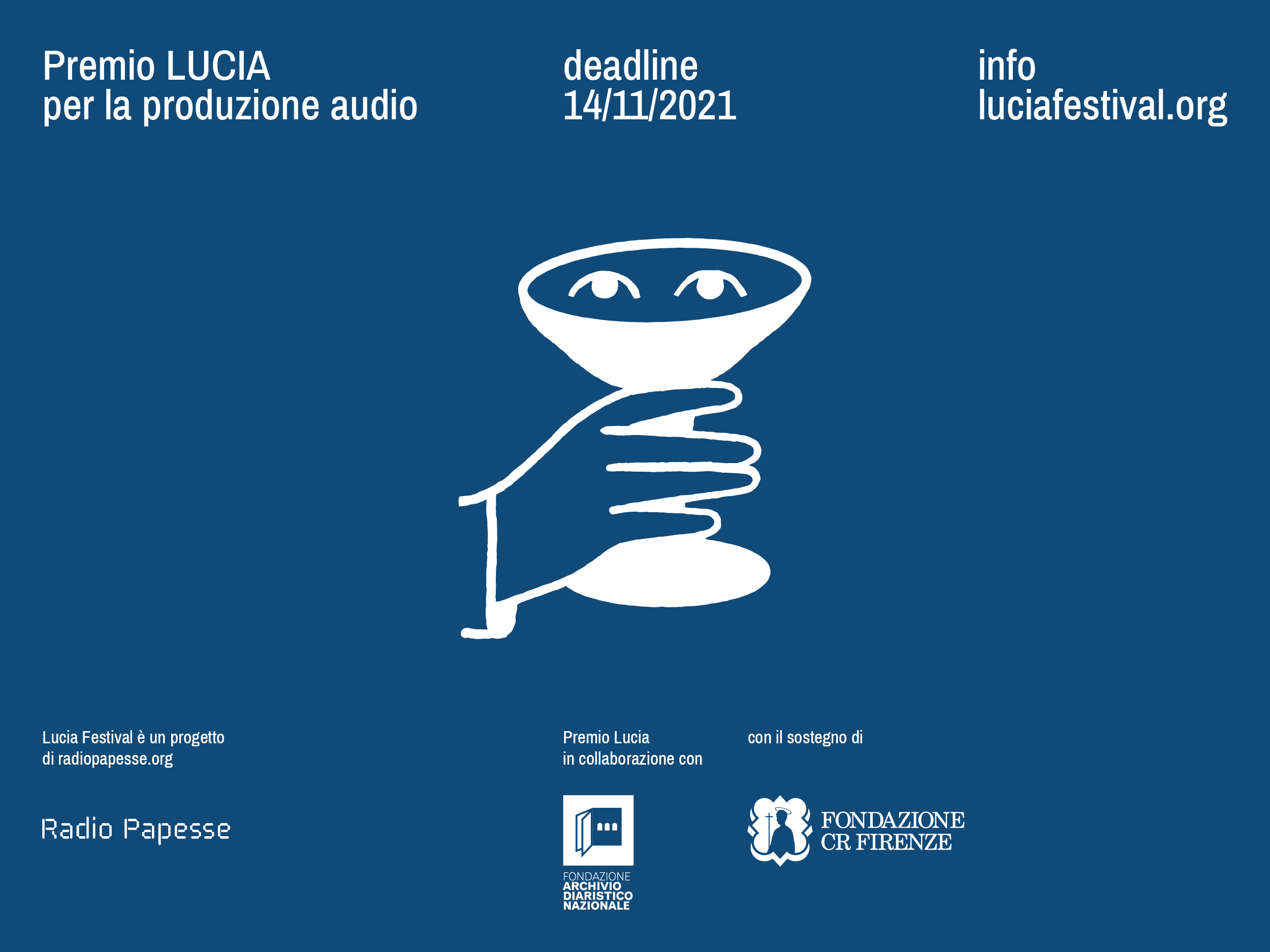 Since 1984, the Archivio dei Diari di Pieve Santo Stefano has collected a unique historical and cultural heritage made up of over 9000 diaries, memoirs and letters. Unpublished private stories, unintentional literature, writings of ordinary people in which ordinary and extraordinary lives interwine the history of Italy.

Along with the Archivio dei Diari, we have selected 6 stories from those kept at Pieve Santo Stefano. Isolations, in the plural, is the word that has guided us and that has often recurred in our conversations. Without confining ourselves to the isolating experience of the pandemic, the stories we have chosen have a sense of solitude, of isolated existences, of safe islands, of hoped-for and imagined landings.

How you would translate them into audio? Send us your proposal (max. 2000 characters)!
We invite you to work on and with the format of the radio documentary, to experiment and renew the genre.

The only limit is that, whatever your native language is, the LUCIA AWARD is for productions in Italian.
luciafestival.org/premiolucia2021
WHO CAN PARTICIPATE?
Young producers and established professionals can participate.
Production groups, collectives and theatre companies with proven experience in audio production are also eligible.

WHAT ARE WE EXPECTING?
A max. 30 minute long audio piece in Italian.
Multi-episode series will be accepted.

THE LUCIA AWARD CONSISTS OF
1st prize = € 2.000,00
2nd prize = € 1.000,00

The prizes will be distributed in two segments:
• the first segment within one week from the announcement of the winners,
• the second segment when the work is submitted (no later than July 2021)

HOW TO PARTICIPATE
1. fill in the registration form
where you will be asked to upload a portfolio / CV and the receipt of payment of the registration fee of € 10,00
via Paypal or bank transfer: Unicredit Banca • Agenzia: Firenze Nazario Sauro • IBAN: IT 06 J 02008 02836 000401118520 •BIC SWIFT: UNCRITM1F13

2. Once the application form has been filled in, the participants in the call will be sent a link from which to access some extracts of the selected diaries, in order to have a more precise idea of the stories. We therefore invite participants to send the registration form as soon as possible, in order to have enough time to read the diaries and write their proposals within the deadline.

3. Registrations, complete with project proposals, must be send to the address premiolucia@radiopapesse.org no later than November 14th, 2021 at 11 p.m.
THE JURY
Radio Papesse - Ilaria Gadenz and Carola Haupt
ADN - Natalia Cangi, Tiziano Bonini
Sara Poma - journalist and podcast author
Marco Stefanelli - independent producer