ENCOUNTERS | Handling Placing and Looking at Photography in relation to Migration
Armin Linke, Guardia Costiera Italiana, Comando Generale Capitaneria di Porto, Map, Roma Italy, 2009
La conferenza - organizzata da Costanza Caraffa, Eva-Maria Troelenberg e Anna Sophie Messner - ha preso in esame, attraverso una serie di casi di studi e contributi metodologici, teorici e artistici, le relazioni tra fotografia e migrazione, indagando da una parte come le esperienze migratorie hanno influenzato la produzione e gli usi delle immagini fotografiche, dei loro soggetti, motivi, iconografie e dall'altra il carattere migratorio, diasporico della produzione fotografica collegata alla migrazione.
Dalle immagini di migranti e rifugiati che rispondono a narrazioni istituzionali [come quelle dell'UNRWA] o a canonizzate iconografie che ne perpetuano la percezione comune [ne parla Margaret Ollin] alla fotografia come pratica relazionale; dalle immagini che rivelano storie, memorie e immaginari personali e collettivi [Sigrid Lien ha condotto una ricerca sulle fotografie dell'emigrazione norvegese negli Stati Uniti, immagini che non solo servivano a tenere i legami con casa ma anche a raccontare l'universo di potenzialità e fortuna a portata di mano nel nuovo mondo; Gavin Maitland ha preso in esame quel che rest dell'archivio fotografico del Bamboo Club di Bristol, il locale notturno e centro della comunità caraibica] a quelle che nonostante gli intenti dell'autore diventano instabili e vengono usate per vivificare le tassonomie raziali dei migranti [è Leslie Ureña a parlarne a proposito delle foto di Lewis Hine da Ellis Island]; dagli archivi diaporici che vivono in una valigia [come quello di Aliza Hausdorff raccontato da Anna Sophie Messner] a quelle che ancora devono essere scoperte: di tutto questo e di molto altro - di economia dell'attenzione ed economia del valore, di funzione sociale, emancipatoria della fotografia... - si è parlato nella due giorni fiorentina.
Ecco allora il programma disponibile in ascolto su Radio Papesse:
Giovedì 12 ottobre
Anna Sophia Messner | Il progetto #RefugeeCameras di Kevin McElvaney
Eva Maria Troelenberg | Il ritratto della madre di Oskar Maria Graf: mutliplo, monumento, brand
Costanza Caraffa | Premesse teoriche per investigare l'impianto migratorio-fotografico
Margaret Olin | Attending to Migration
PANEL I - ARRIVALS ?
Modera Eva-Maria Troelenberg
Leslie Ureña | Portraying Race beyond Ellis Island [il caso Lewis Hine]
Anna Sophia Messner | A suitcase as Photo Archive [la storia di Aliza Hausdorff e del suo archivio diasporico]
Archives should be read as material archeological sites. Thus both objects in the archive and archives as objects can be thought as having social lives, entailing biographies and associated narratives. The archeological approach allows to construct timelines and unfold relationships with the remains of the past. Archives are laboratory for memory production. [Gabriella Giannachi, Archive Everything, MIT Press, 2016]
Lewis Hine, Donna albanese a Ellis Island, New York, 1905
Venerdì 13 ottobre
PANEL III - DIASPORAS, COMMUNITIES, IDENTITIES
Modera Alison Boyd
Gavin Maitland | Things We Lost in the Fire: Images from the Bamboo Club 1966 - 1977 ["Can absence make up an archive?"]
Photographic images do not have voice on their own, they do not speak to us. It is we who must interrogate them, to enter the images as it is the cultural accumulation of knowledge which we bring to photographs that make them historical significant. [G. Maitland]
Cathrine Bublatzky | Entangled: Contemporary Iranian Photography in Migration Context
[Case Studies: Parastou Forouhar, Kaveh Rostamkhani e le controversie sul World Press Photo a Hossein Fatemi]
For an analysis of the photographs, we have to take into account the entangle situation between the personal history, the cultural competences and the sensibility and the critical engagement that is expressed in the photographic practices even though if it is not strongly related to their own motivations of taking these images… [C. Bublatzky]
Tony Bullimore, manager del Bamboo Club e sua moglie Lalel
PANEL IV - ENCOUNTERS AND NARRATIVES
Modera Shamoon Zamir
Sigrid Lien | Pictures of Longing: Migration Photographs as Grass-Root Stories
Longing is something that is linked to the experience of being between something, countries and cultures; longing can be directed towards the future as well as the past. [S.Lien. Pictures of Longing. Photography in the History of the Norwegian US emigration è in via di pubblicazione per la University of Minnesota Press]
Issam Nassar | Photographing Palestinian Refugees
Myrtle Winter, da ghost writer a fotografa testimone della storia della Palestina per l'UNRWA.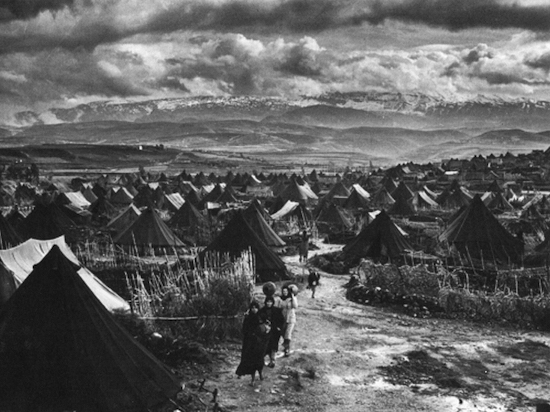 Campo per rifugiati Naher al-Bared, vicino a Tripoli (Libano), 1952. Foto di Myrtle Winter-Chaumeny